Ansoff's Matrix: A Powerful Strategy To Drive Business Growth
As a business owner, Have you ever wondered if you ought to spend money on R&D to develop new goods, set up offices in other locations, or focus on new markets? It can be overwhelming to decide which path to take, especially while handling your existing business. But making the wrong choice can be a major risk.
Luckily, there's a strategy you can use to guide your expansion plans: Ansoff's Matrix. In this blog, I'll walk you through what Ansoff's Matrix is and how it can help you make strategic decisions about growing your business. With Ansoff's Matrix as your guide, you'll be able to identify and seize the right opportunities at the right time.
What actually is Ansoff's Matrix?
When it comes to growing your business, it can be tempting to jump on any opportunity that comes your way. But that approach can be risky, and you may end up wasting valuable time and resources chasing the wrong opportunities. That's where Ansoff's Matrix comes in!
Ansoff's Matrix is a strategic planning tool that helps businesses determine their product and market growth strategy. It was first introduced by Igor Ansoff, a Russian-American mathematician and business theorist, in his 1957 Harvard Business Review article "Strategies for Diversification."
Understanding this matrix can help you evaluate opportunities and identify the right direction for your business growth.
It consists of 4 quadrants that are created by dividing the market and product offerings into existing and new categories. You can do that by drawing a vertical line between Existing Markets and New Markets, and a horizontal line between Existing Products and New Products.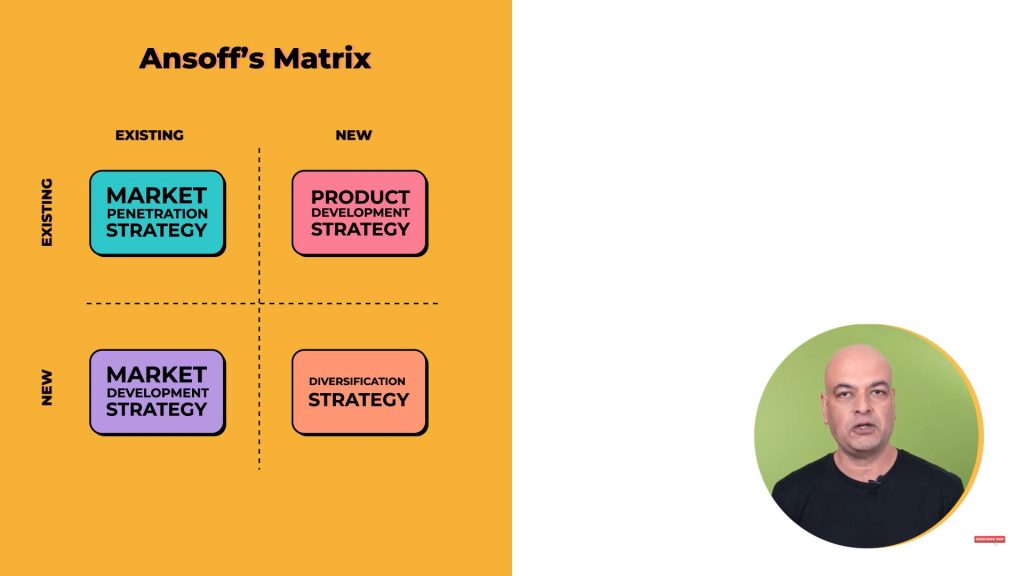 The four quadrants are:
Market Penetration – selling more of the same products to existing customers in the same market
Market Development – selling existing products to new markets or customer segments
Product Development – creating new products for existing customers in the same market
Diversification – developing new products for new markets or customer segments
Now, let me explain each quadrant with an example for better clarity:
1. Penetration Strategy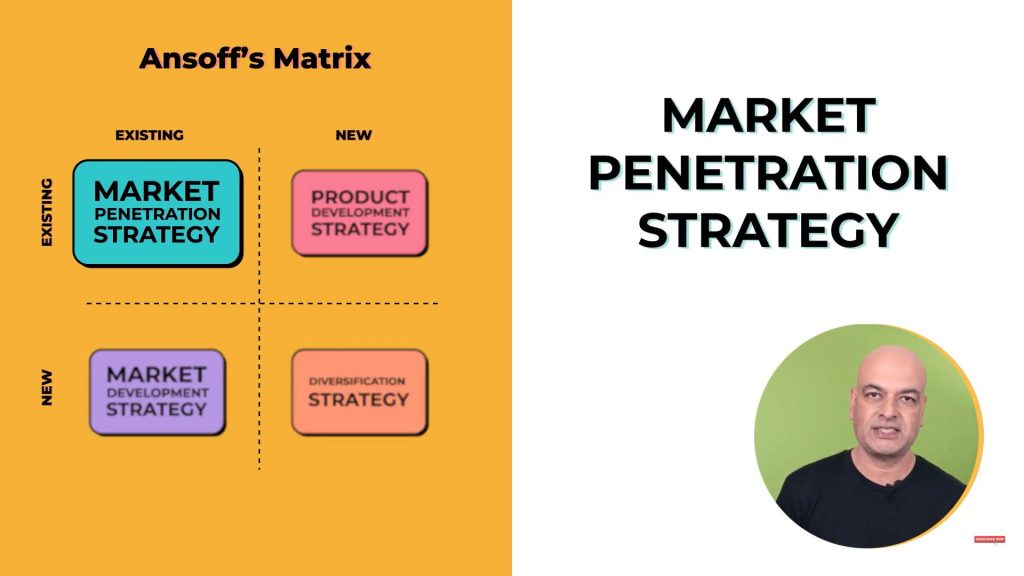 Now, let's say you run an SME business that specializes in Engineering Projects or EPC. The quadrant where you're selling Existing Products in Existing Markets is called Penetration. This is where you know your product and your market inside out. And the easiest way to grow your business is by penetrating deeper into that existing market and reaching out to more customers.
It's a low-risk strategy because you're selling a product that you know well, to a market that you're familiar with. For most small businesses, this is the obvious and most effective strategy to achieve your revenue goals.
Unless you're in a high niche market, your SME probably has a negligible market share, so increasing your market share should be a top priority.
2. Market Development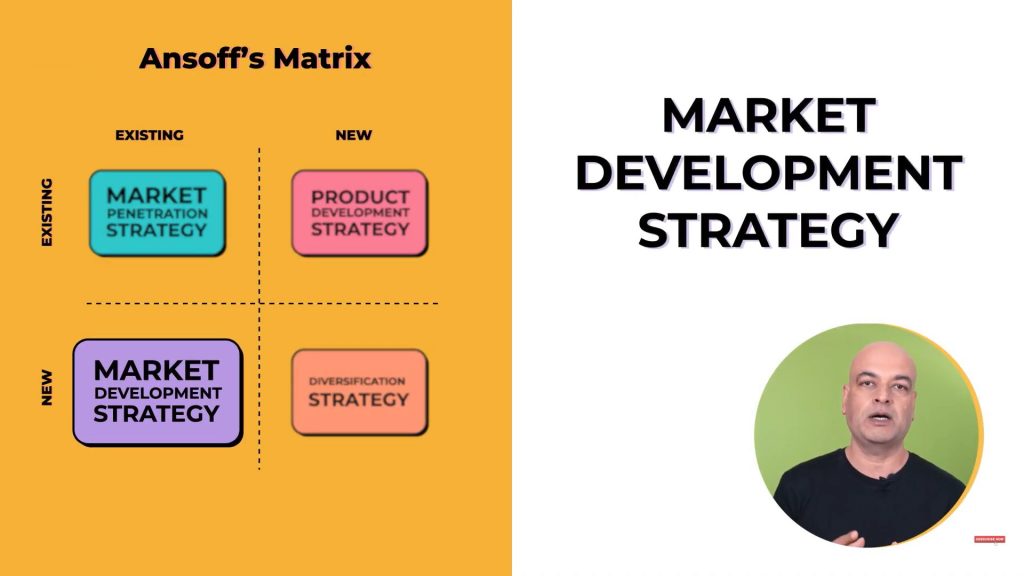 Let me give you an example to help you better understand the Market Development quadrant of Ansoff's Matrix. Imagine a business that specializes in Control Panels and Automation for Manufacturers of Boilers and Water Treatment Plants in Western India.
If they want to grow their business through Market Development, they would explore new markets for their existing product. This could involve expanding their customer base to different regions within India or even overseas.
For instance, they could start approaching Boiler and Water Treatment companies in North, South, or East India, or even other countries for exports. Alternatively, they could target new industry verticals like Process Plant Manufacturers and Pharma Machinery Manufacturers.
The key here is to find new markets where their existing product can be sold, thereby increasing revenue and market share.
3. Product Development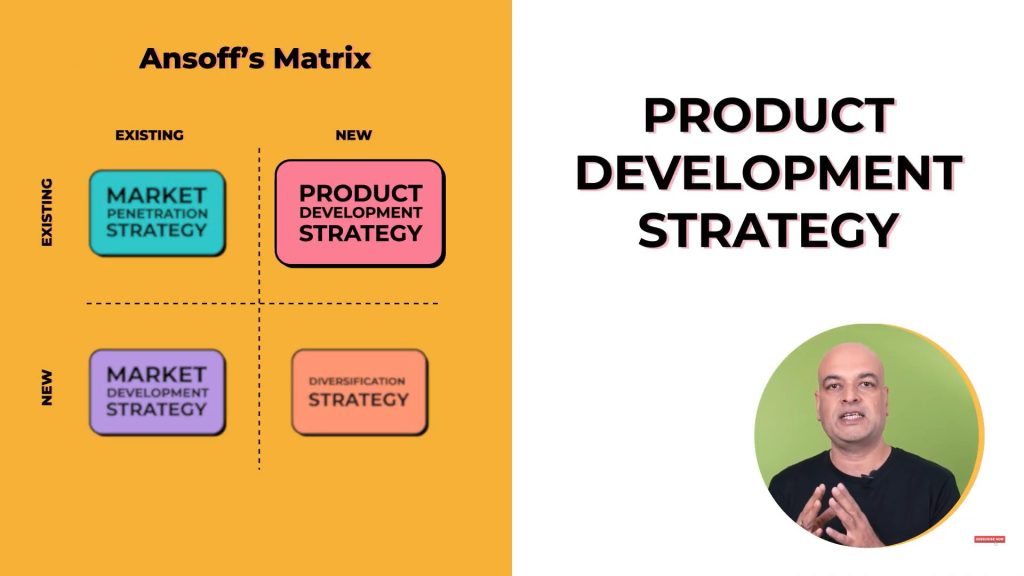 Let me explain the third quadrant of Ansoff's Matrix, which is called Product Development. This quadrant is all about developing new products for your existing customers. Let's take the example of the Control Panels & Automation business again.
In this quadrant, the business can invest in R&D or find new requirements for their existing clients and develop new products for them.
For instance, they can develop an IoT platform, measuring instruments, or special devices that are different from their existing offerings like control panels and PLCs. Since they already know the customers, selling to them will be relatively easy.
However, developing these new products will require investments in terms of time, money, and effort. There may also be risks associated with product failures or bad experiences with customers until the learning cycle is complete.
On the other hand, if the business focuses on the fourth quadrant, which is called Diversification, it will be exploring completely new markets with new products. This strategy can be quite risky, but it can also offer great rewards.
As you move from existing to new, whether it's the product or market, the investment of time, money, and effort increases. With increased investment comes increased risk, as one of the variables is new to you.
4. Diversification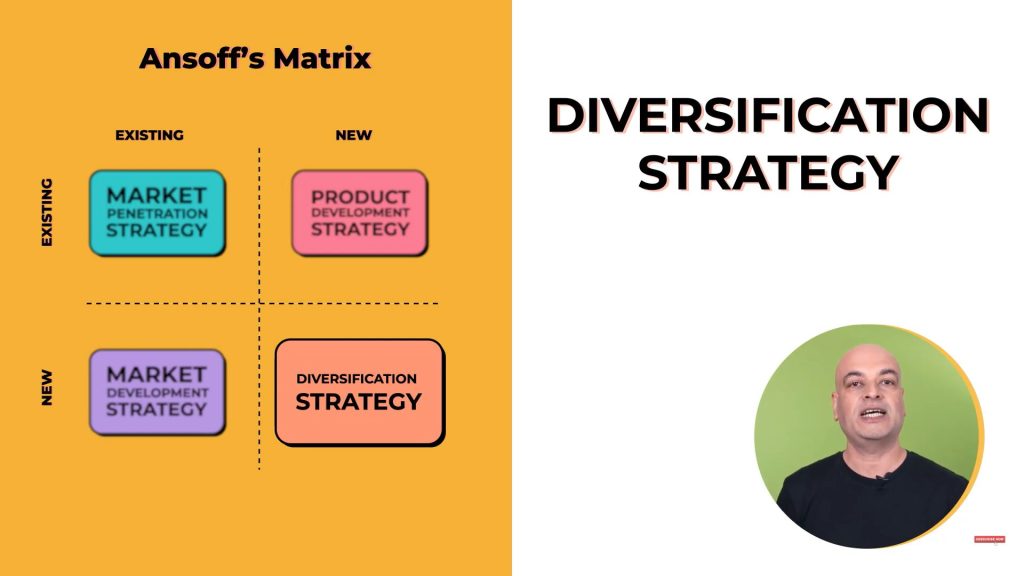 The final quadrant is Diversification, which requires maximum effort, investment, and time to study and understand new markets, research and develop new products, and try them out and sell them. Everything about Diversification demands more resources and, at the same time, involves the highest risk because we are dealing with unknown variables.
For example, this control and automation company could diversify by developing an IoT platform for overseas customers, creating energy meters for solar companies, or venturing into building automation systems for commercial establishments.
In all three examples, both the products and markets are new, requiring significant investment and a high level of risk.
The idea behind Ansoff's matrix is to help businesses identify and evaluate different growth opportunities and choose the best strategy based on their goals, resources, and risk tolerance.
Closing Thoughts
To conclude all of the above, the best approach would be to start with minimal investment in terms of time, effort, and money, and minimal risk. Here's a suggested sequence:
Focus on penetration first.
Develop new markets by targeting new territories or regions but with the same product and the same type of customers.
Develop new products for existing customers, but only if you are confident about their needs.
Develop new markets in the form of new industry segments or types of customers.
Develop new products that can be sold to all industry segments or customer types.
Diversify your business only when it is profitable, and growing, and you have free time and income to invest in diversification. It would be a big mistake to fund a diversification business from the earnings of an existing business that is not yet profitable or well-established, or that requires your constant attention.
Follow these sequences and you'll be able to seize the right opportunities at the right time. If you found this information valuable, don't forget to share it with others in your industry. For more tips and insights on business coaching and guidance, be sure to visit our blog today.