Coaching, Mentoring, or Consulting: What's the right fit for your business?
Many challenges pop up when running a business and you are constantly up on finding solutions for them. Coaches, consultants, and mentors are experts in their respective fields and can help you dig out the right solutions. But who would be the best fit, coach, mentor, or consultant?
You face numerous challenges as you strive to run and grow your business. You have to constantly lookout for solutions and you know how time-consuming the whole process is. Apart from the time you also have to pour in a lot of effort. The whole process becomes easy when someone gives you some advice or a tip to solve it. It may be from a friend, a former colleague, or someone senior.
But getting such pieces of advice is rare and the reliability is also a matter of concern. That's when most business owners decide on getting an expert to help them with their current situation. That saves a lot of time and money for most business owners.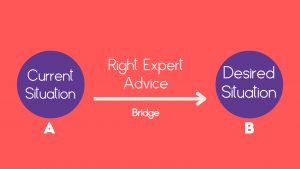 You are currently at A (Current situation) and there are 3 different ways for you to reach B (Desired situation). You can find the right fit for you depending on your requirements. Let us now see which method caters to which requirement. We'll understand this with the help of the quadrant model.
The Quadrant Model.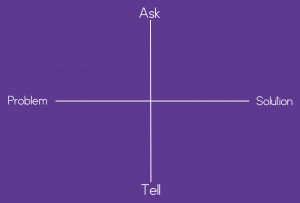 We will be using this model to understand the role of Coaches, Mentors, and Consultants.
The four parameters are placed on either side of the axes. On X-axis problem solution. It tells what the advisor seeks
On Y-axis lies ASK-TELL. It indicates the approach of the advisor.
Coach, mentor, and consultant fall into three different quadrants.
Business Mentor:
According to Cambridge Dictionary, Mentor is a person with:
"Experience in a job that supports and advises someone with less experience to help them develop in their work."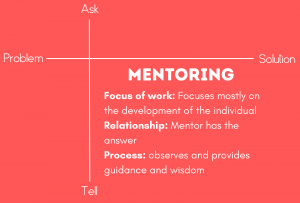 So, if you go to a mentor with your problem, he'll probably tell you the solution to the problem that's why it lies in the Solution-Tell Quadrant.
The main focus of a mentor is to transfer his knowledge in the respective field. He has faced similar challenges or has first-hand experience in tackling them.
Mentor handholds you through the problems that you are facing and tells you exactly what you should do to overcome the problem, laying a path for the "mentee" to walk upon.
Is it the right fit for your business?
Mentorship is mostly on a personal level and focused on the growth of the individual. It bridges the gap between knowledge and experience but it is not advisable for businesses.
As a business owner, you know that every business is unique and has its challenges. There are some common problems that most businesses face but most of it is very different. And as far as mentoring goes it is focused on providing you solutions based on mentors' experience and exposure.
If you are looking for only personal growth and filling in your knowledge and experience gap, then mentoring is the perfect fit.
But it may not be the right fit from a business point of view.
Now let us see at consulting, which is considered to be more business-oriented.
Business Consultant:
According to the Oxford Dictionary, consulting is the practice of
"giving expert advice to people working in a professional or technical field".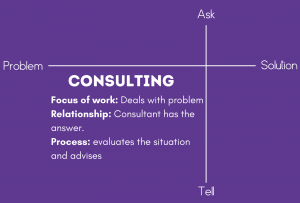 Business consultants fall into the tell-problem quadrant. The main focus of the consultant is to spot the potholes in your business by analyzing the data provided.
Consultants focus on pointing out those hurdles for you in your business by using their expertise and so are mostly hired on a project basis.
They might not right away provide you with a solution. They brainstorm and give you the ideas and the whole layout of the problems and the ways to deal with them. You only have to implement those strategies and ideas in your business to reach the desired output.
The client is involved in the briefing, scope definition, and review phases during the project but does not actively develop the conclusion.
It's like hiring an assassin to kill the problems in your business.
Is it the right fit for you and your business?
It is the right fit if:
You require a fresh or unbiased perspective from somebody outside of your own organization,
You don't have the time or resources to look for a solution yourself,
Your organization wants to drive change and needs external impulses to break through established patterns,
You want to profit from the knowledge of someone who has already implemented the change in the past.
You don't want to think of a solution.
So, the value addition is only done to business and there is no input to the knowledge of the business owner.
It is also observed that the dependence on the consultant keeps increasing because it becomes the tendency of the owner to outsource the thinking part.
Summing up, if you only want to grow your business and are not interested in developing your own solutions, then it is the right fit for you.
Business Coach
The definition goes as follows.
Business coaching is the process of engaging in regular, structured conversation with a client. The goal is to enhance the client's awareness and behavior to achieve business objectives for their organization.

World Wide Association of Business Coaches, 2007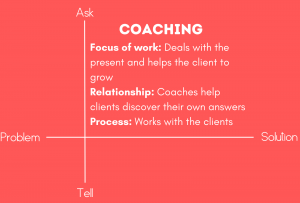 Business coaching lies in the Ask-Solution quadrant. He would ask you for solutions and correct you if you are wrong. He will support you brainstorm and framing your own strategy to deal with the situation.
In mentoring the focus is on the person and for consultants, the main focus is the business but coaching is a blend of both. It helps the business owners come up with solutions for the business and that's how the owner grows along with the business.
A business coach is someone who is an expert and experienced in a particular domain but doesn't want to give out direct answers. He guides the person to come up with solutions.
A coach challenges the status quo and stimulates discussions based on their client's strengths and already available resources. The coach acts as a mindful mediator to help his counterparts arrive at their desired destination.
Is it the right fit for you and your business?
If you want to take your skills to the next level by simultaneously being guided and supported, finding a coach will be the right decision for you, because:
The relationship between you and the coach is more intimate and often develops into a lasting personal partnership;
There is no major knowledge gap to fill. You already have the necessary expertise and skills to solve the problem;
The coach acts as a supporter and guide from day one and stays until the task is completed.
Most businesses opt for coaching as it makes them more independent and develops them to be more capable leaders.
Conclusion:
That's all there is from my side.
I hope that you got the answers you were looking for.
You can choose the type of business adviser that perfectly aligns with your goals and go ahead.
And lastly, don't hesitate to take advice.
Is coaching the right fit for you?
If you are reading this, I consider that you are facing problems in your business and you think that a coach would be able to help you out. And you are thinking that you should start looking for a coach.
Tada!! You got your first coach here (probably the last one too).
If you want we can have a small conversation about business, don't worry it's free.
To schedule a call, drop us a mail saying "I'm up" at [email protected]
Happy learning!!